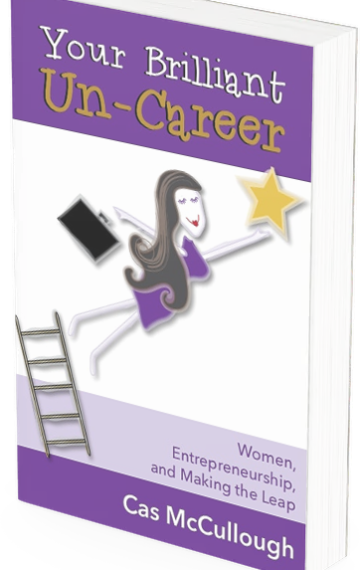 No. 1 Amazon Bestseller
$17.64 AUD Approx
Publisher:

Just One Thing Press

Editor:

Alex Mitchell

Edition:

1

Available in:

Paperback, Kindle

ISBN:

0987243233

Published:

November 25, 2020
Buy Now
Your Brilliant Un-Career is the ultimate roadmap for women corporate escapees and entrepreneurs. Part memoir, part how-to guide, the book shares real women's stories, inspiration and practical insights on how to make the leap from employee to entrepreneur.
20 Five Star Ratings and Reviews!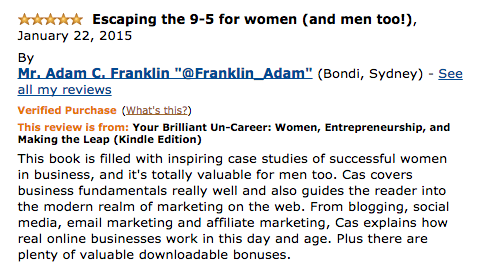 I wrote Your Brilliant Un-Career 6 years ago and it's still just as relevant today as it was then. The book launched as an Amazon No. 1 Bestseller in the Women and Business category in its first 3 days with over 800 Kindle copies downloaded.

Who Your Brilliant Un-Career is for
If you want to start, grow or revitalise your own business, get unstuck and shift from dreamer to doer, this book is for you. Who is this book for:
Women who want to make the leap from the corporate ladder but don't know where to start, wantrepreneurs and entrepreneurs
Women who want a business that is a pleasure and joy to run
Women who want a life and not just a job
Women who need a confidence boost to make the leap and do it well
Men who resonate with all of the above
What you will learn
How to find your profitable purpose, your big WHY, so you can build a business you love, for the long term
how to avoid burnout and create a life you love by leveraging your expertise rather than your time
how to create an information-based business, and capitalise on the information economy
how to recognise and avoid common business pitfalls and make the most of opportunities for growth
how to size up services, consultants and mentors so you can invest in your business growth wisely
how to create an action plan and not just a business plan
where to base your business, and how to work from anywhere
how to create a brand that appeals to your right buyers, so you don't waste time and money on people who will never buy from you
how to market your business in the 21st century (including how to set up a lead generation system that works, use inbound marketing, content and email marketing to grow your audience and sales)
the fundamentals of social media marketing, timeless, proven techniques and strategies you can implement on any platform
how to build customer loyalty and nurture your tribe to encourage repeat business
how to accelerate your growth using email, events and collaboration, and
how to overcome overwhelm, and confidence killers so you can reach your potential as an entrepreneur