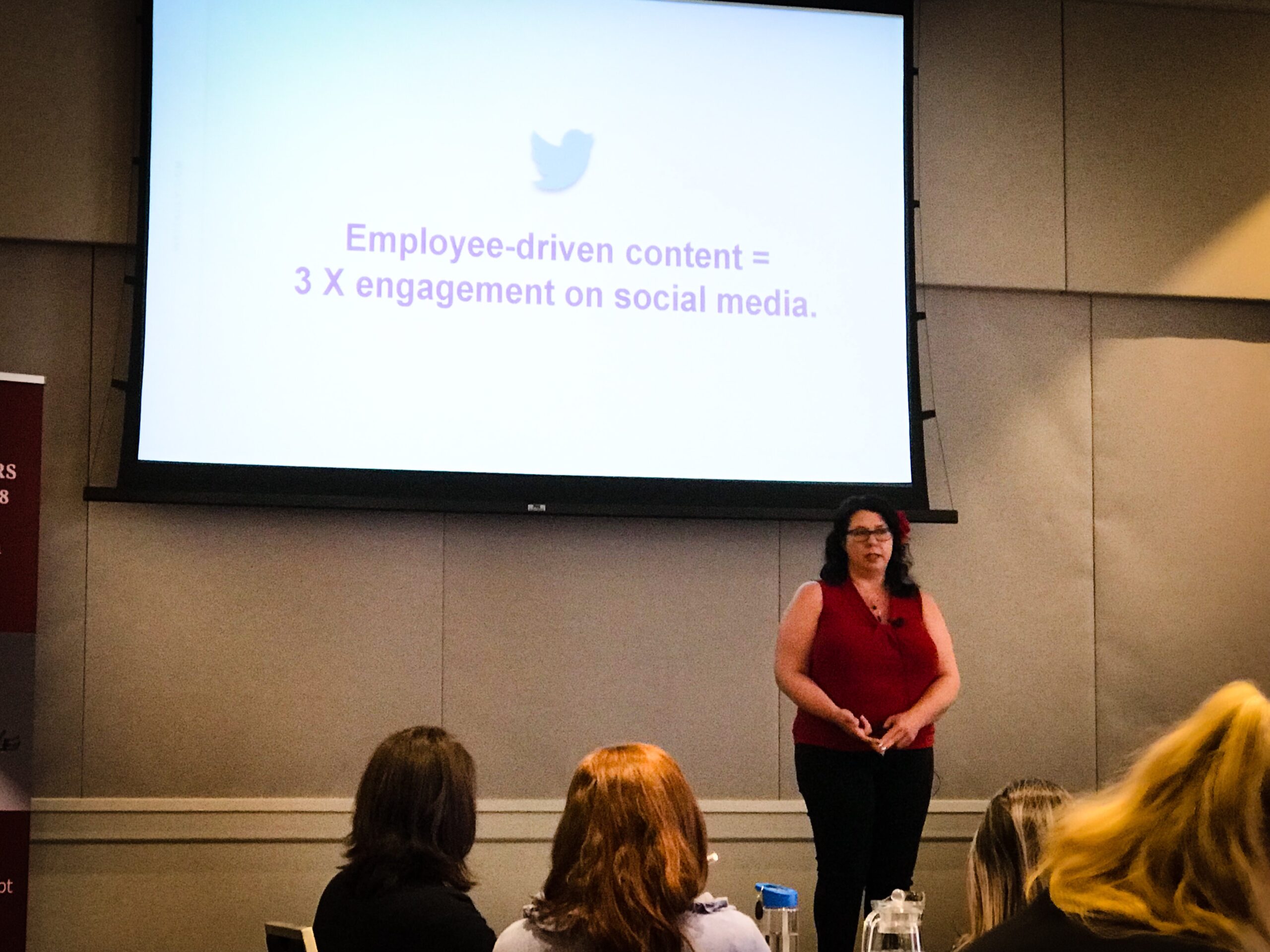 My speaking style has shifted incredibly over the past 20 years since I first gave a session presentation at a midwifery conference. Nowadays, my talks are more like conversations (and in the case of podcasts, they are conversations). They are personable, vulnerable, interactive, they include inspirational stories, and they leave the audience with a sense that they can accomplish anything they choose.
In my current role at a large multinational corporation, I host the Future Water Podcast and regularly mentor my colleagues in podcasting. I also present webinars on a variety of topics alongside my team and host the What's Important Now show on Facebook.
"Just touching base to thank you again for your presentation – it was great and the feedback we have received from all of our attendees was that they could have listened to you speak for hours and they got a lot of great tips and ideas from your presentation."– Lasie Nguyen, City of Monash, Victoria
I have been engaged to speak at many events over the past 20 years, from presenting a consumer perspective at national midwifery and childbirth conferences to presenting writing, marketing and social media workshops for large organisations like The Healing Foundation (2020) and Woodfordia.
"I checked in with the team this morning. They all found the workshop really useful. Theresa used the personas with a group she's working on this week and said it went really well. "

Christine Payne, The Healing Foundation and Workup Queensland
"Cas delivered an informative and useful workshop to a group of early-mid career science researchers. The workshop got the participants out of their scientific writing comfort zone and enabled them to write a clear and interesting blog about their research projects. The Writally tool really helped them to clarify the structure and ideas in their post and I think it even inspired many of them to continue writing blogs!"

Nikki Sims-Chilton, Queensland Science
In 2018 to 2019 I was invited by Advance Queensland to speak at QODE Festival, the Lexi Business Writers Conference and was a facilitator for Flying Arts Alliance workshops.
Below is a list of many of my speaking engagements:
The Healing Foundation, writing and social media workshop (online), August 2020
Flying Arts Alliance, social media marketing workshop at TAFE Queensland, May, 2019
Flying Arts Alliance, Somerset Council social media marketing workshop, April, 2019
QODE Festival workshop on content marketing, April, 2019
Flying Arts Alliance, Redcliffe Art Society workshops on social media marketing and writing, December, 2018 and February, 2019
WP Engine Marketing seminar, March, 2019
Queensland Government Department of Innovation, Science and Communication, TalkITup session, November, 2018
Lexi Business Writer's Conference presentation on Content Marketing, Brisbane, 2018
Thought-leading Content Workshops, 2017 to 2018 (for ClarkeKann, Bluechilli, Coding Kids, T4E, and Queensland Science)
QUT Foundry, 2018, Content marketing for startups
Writally Bloghackathon events, 2016 to 2018
Content Strategy Meetup, Brisbane, 2017
Networx Panel on Blogging, 2016
Full day writing workshop for Workforce Queensland, 2016
Greater Springfield Orthodontics Study Group, presentation on social media for health professionals, 2015
Problogger workshop panel, Brisbane, 2015
Friends of the Birth Centre, Queensland, 25-year anniversary event, 2015, guest speaker
Content Strategy Meetup, Brisbane, March 29, 2015
Kitchen Table Network Gold Coast Branch March 22, 2014
Australian Virtual Assistant Conference in Brisbane, talk on content marketing
Facebook Bootcamps at the Sunshine Coast and Brisbane, 2013
City of Monash, Victoria, Women's Business Networking Event, 2013
The Commonwealth Government Sponsored Homebiz Connect roadshow in Brisbane, 2013
Ipswich Women in Business Networking Event, August, 2012 – "How to attract and serve your ideal clients."
The VBAC Wars. Australian Midwifery Expo, Brisbane, Qld, November, 2008, and Birth After Caesarean Intervention (BACI) Consortium Seminar, at University of Technology, Sydney, April 2009
But what if I want an epidural? How to reach women stuck in the medical model of care. Homebirth Australia conference, Sydney, November, 2007
Creating the Journey of Healing. Australian College of Midwives, National Conference, Canberra, September, 2007
Forgotten Mothers: Advocating for family-centred caesareans. Australian College of Midwives, Queensland State Conference, Gold Coast, July, 2007
BAC together: The consumer perspective on the benefits of collaborative care for women giving birth after caesareans. Breathing New Life into Maternity Care, Sydney, Australia, December, 2006
If you'd like to talk to me about running a workshop, presenting at a conference or being a guest on a podcast, please reach out to me via LinkedIn Messenger in the first instance.